Sony Xperia Tipo Review, Features and Price in India
Sony Xperia Tipo is another coveted product of an esteemed company Sony.  It is available in a bar form and runs on the smart and futuristic Android V4.0 (Ice Cream Sandwich) OS. 800 MHz Qualcomm Scorpion processor and a 512 MB RAM are the highlights of this sophisticated product. Thanks to the availability of multiple applications, it helps in running the phone in an efficient and smooth manner.Its display has a 3.2-inch TFT Capacitive Touch screen and has HVGA resolution of 320×480 pixels. The phone is bereft with Timescape user interface as it eases the user towards handling it in an easy way. Thanks to the Adreno 200 graphics processing unit, it helps in enhancing the graphics of the screen. It also has a 3.2 megapixel primary camera as it also serves the function of video recorder too. The camera has  4* digital zoom, self timer along with send to web function as it just goes on to show its immense utility. The phone has a Geo-tagging feature as it helps the user to add the location based date to the videos or pictures which are uploaded.
Design
It has sleek rounded edges with a rectangular look. it just weighs 99.4 gm and has a dimension of 57 x 103 x 13 mm. Thanks to the accelerometer sensor; it helps in rotating the screen. The proximity sensor present on the device switches off the display in order to prevent the user from unnecessarily tapping the button at the time of call.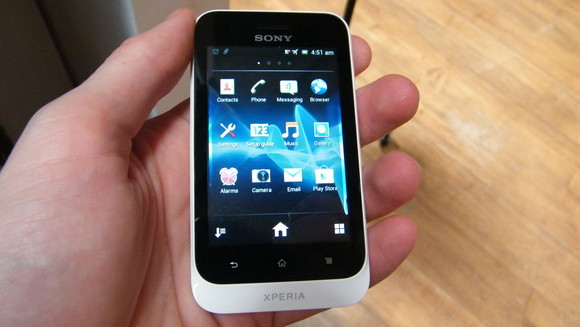 Storage and Battery
It has a 2.5 GB internal as well as expandable memory card slot. It helps towards increasing the memory up to 32GB with the help of SD card. The phone has a 1500 mAh Li-Ion battery and the user can talk for 5 hours on 2G network and on 3G network for 4 hours. 
Connectivity and Features
Now you can surely be connected to interwork from any where with 2G network thanks to GPRS and EDGE technology. You can use 3 G network for a fast speed. There is also the facility of Wifi  It connects other device via USB port or with Wi-Fi hotspot function in the device. Thanks to Bluetooth, you can easily exchange files and documents. The phone also acts as a navigation through Google maps which has GPS support.
The device is synonymous with entertainment through video player, music player along with FM radio. The clarity of audio is more enhanced with the inbuilt xLOUD Audio Filter Technology as it gives an enriching audio experience.
It has the facility of social networking applications in the form of Face book, Twitter and WhatsApp. Hence you can always stay in touch with everybody. Apart from that, it also has the facility of Wallpaper animation, Google Sync and Audio recording as it makes the device even more coveted than ever before.
Price: You can get such enhanced and whopping features in just Rs.9499 in India. Great isn't t it? Hence you should not wait any further.
Author bio: Hi, This is sai Krishna from India, He love to write about What is secure.me And Androidbent.